HSIEN SHIH Purchasing/Trading/buying agent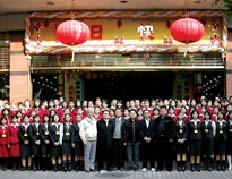 Based on the China Market, you are able to rely on Hsien Shih Company. Our main office is in Guangzhou, but we also have branches in Taiwan, Yiwu, Singapore, Thailand, Malaysia,
Indonesia.?
You are able to purchase whatever you are interested in the world famous wholesaler commodity markets-Guangzhou & Yiwu. We have cooperated with numerous professional factories in various industries, and ensured you buying all the products at the competitive price with fine quality!
With our superiority in services, Hsien-Shih has expanded to international trading. We have attracted many clients from Taiwan, European, American, and southeastern Asian countries to collaborate with us. The purchase amount is about USD$10,000,000 per year.
We serve services are as follows:
Accompany with clients to visit the factories/markets which you are interested
Place the orders to the factories according to your requirement
Bargain the price with the suppliers
Arrange the cargos shipment
Sourcing the merchandise
E-mail photos of new products for our clients every week
Document preparation (invoice & packing list, C/O,FA,FE)
Custom clearance
Quality and quantities control/inspection
?Hotel reservation
" No under the table commission" is our principle. Hsien Shih is dedicated to assisting our clients to reach better and bigger business opportunities. If you are looking for a reliable & efficient business partner, we will be your wise choice!
E-mail: xianshi@xian-shi.com
Website: www.xian-shi.com
Tel: 86-20-81061256.7.8
HSIEN SHIH CO.,LTD